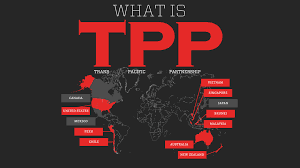 Manufacturing Winter is Coming
So the TPP is Set after a long discussion among the "40% of Global GDP", clearly it is going to accelerate the killing of China Manufacturing. In which it will greatly affect the china economy at this stage when China is going through a serious reformation. Let say if china economy worsen unexpectedly due to that, it will greatly affect the whole global economy. In addition, the whole global economy is in a very unstable stage. Banks are making less money or worse making a loss in a quarter like Deutsche Bank. Many banks seems like to push their Cost to another season/quarter. By recognizing them later would make their Statement looks better. However, the fact is that Bad Loans are just everywhere either hidden or being refinanced/repackaged.  What is going on in China right now from what I saw is that many companies are not making money, manufacturing especially. Industries like Hospitality in 2nd tier city and beyond are not looking good. Tourism seems a good business however the most profitable parts like ticketing/transports are State Owned. While the rest like hotels/retailing are not making much money (or could be losing money) due to over capacity and extreme seasonal effect. Number differences of tourist for the peak and trough could reach 10 times (Ref: My own onside findings), therefore, most of the retailing and hotel are making losses during off-peak and are not able to cover the loss with the money earned during peak, many barely break even, only a few are able to make money (e.g. Industry Leaders).
Service industry seems growing very fast especially services for City needs such as Delivery Servicing, Laundry Servicing, Car Renting, Green Energy Related Service (Solar Energy Heater Etc.), F&B, Cafe, etc.. I see the future of Service Industry. It is going to be Gigantic, however i'm still not convincing china is going to survive with Service Industry. In my opinion without manufacturing china is not going anywhere (High valued added manufacturing would be better)
Robotic Industries is told to be fast growing by the gov TV news. However, i don't really see many companies using or those who did are just use it as gimmick to let their share price go higher and maybe get another loan easier. The (Car) industry that uses more robot is slowing down, many companies has cut their production and future demand estimates. Many of their suppliers are trying to get listed at this time. It gives me a signal that business is bad and they need more money to get through this or go down.
So where is China Manufacture going? Industry 4.0? It keep flashing on the TV News but i bet most of people just has no idea. It is not about Automatic Manufacturing or more Robots. That is not Industry 4.0, that is what have been done in German or any other western develop country for the pass 20 years. Industry 4.0 is much more complicated than what many Officials thought in China. So many of them just doing it blindly.
Wish to see more Semi-Conductor Manufacturing set up more in China, that is a high valued added Manufacturing. Hope for a better tomorrow. Just that, I'm Worry, China may soon Landed even before it take off again.